8 months ago
Streamit - Project Updates and News #4
Streamit - Project Updates and News #4
Hello everyone, For now, and on I'll be sharing some weekly updates bringing the most recent of the Streamit project, everything that was done and the good things that are coming.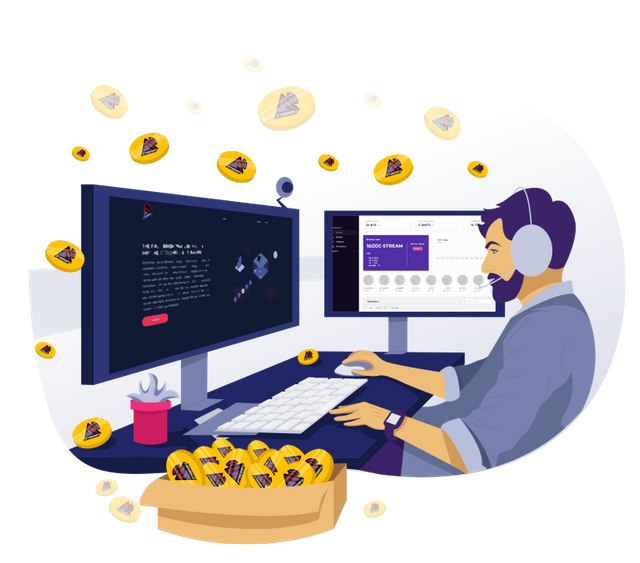 Streamit - Project Updates and News #3
Streamit is growing so much every day, as the development doesn't stop, team is working to bring even more decentralization to the project, bringing more new exchanges, giving more options to trade streamit, you can even try arbitrage with all the markets that are available for streamit.
Masternode Pools
Another GReat step to bring descentralization and opportunity to everyone is to have Masternodes, and shared masternodes pools, this ensures that everyone can participate, invest and be part in a good project, Streamit keep to good work, with Big Shared Masternode services for all the community:
Simple pos pool
stack ofs take
FlitsNode
NodeHub
and more
Streamit Investment Program
We are happy to announce, that STREAMIT deposit Investment program is now live
https://docs.google.com/spreadsheets/d/1kkr8Lg8DVHZONb2S7iLrVgJWjjWMYHZD5Gn6CIYxjgE/edit#gid=0
You can invest 20, 50, 100 streamit coins or more and receive a stable income over a selected period of time 5, 10, 30 days
You can choose BRONZE, SILVER, GOLD investment level
Send your streamit coins to the specified address from the deposit table
Your streamit wallet address will be added after 120 confirmations to the deposit table
In 5, 10, 30 days, depending on the chosen level of investment you will receive back your deposit coins+earned coins
STREAMIT deposit investment program this is a stable income with high ROI
From now even small investor can make money with STREAMIT
You can find full information about STREAMIT deposit investment program on this channel #deposit-program or ask any questions @ STREAMIT
How Awesome is that?
We are pleased to announce that the first investors have already appeared in the investment program STREAMIT
It will be enough for you 5 minutes to start earning with STREAMIT
For example if you send 1000 streamit coins to BRONZE level wallet you receive in 5 days 1030 coins back.
This way you will earn 75$
If you send 1000 streamit coins to SILVER level wallet you receive in 10 days 1060 coins back.
This way you will earn 150$
If you send 1000 streamit coins to GOLD level wallet you receive in 30 days 1230 coins back.
This way you will earn 575$
Start earning with STREAMIT today
New masternodes Hosting
COLD NODES HOSTING
trttNodes is a masternode investment platform - https://node.trittium.cc/
STREAM is listed now as PREMIUM LISTING, it includes
FREE STAKING into the trttnodes platform wallet. Just hold your coins there to earn rewards.
Mobile wallets app for IOS and ANDROID.
https://play.google.com/store/apps/details?id=com.megano.trittium_wallet&hl=en_US
https://apps.apple.com/us/app/trittium-wallet/id1446206807
What does the service offer:
COLD WALLET MASTERNODE HOSTING
No tech Knowledge needed
3-clicks setup
Dedicated Servers
1.79 €/Month. Volume discounts available
Fees charged daily in TRTT
24/7 service
Past Month achievements
STREAMIT Twitch Bot reached 4000 users around the world
Streamit Investment Program
More than 5 Big Exchanges
KYD review Complete, Streamit team in not anonymous - More Info
KYC completed on Criptobridge
Masternodes and Shared Masternode services - Flitsnode, trtnodes, nodehub and more.
Streamit is on top 500 on CoinMarketCap - More Info
Streamit LTD company is registered in UK - More Info
Working product already working - Streamit bot already has several thousand users worldwide - More Info
Amabassador Hiring program - More Info
Bounties for all community, including Reddit, Twitter, Youtube and more - More Info
Portifolio tracking apps Listing
Road Map being done in time - More Info
More partnerships already confirmed, more exchanges, services, and working products coming Join the Discord to stay tuned in the last updates in real time - Join Here
Streamit Social Media links:
BITCOINTALK: https://bitcointalk.org/index.php?topic=5174054
TWITTER: https://twitter.com/STREAMITCOIN
TELEGRAM: https://t.me/streamitcoin
FACEBOOK: https://www.facebook.com/streamitltd/
REDDIT: https://www.reddit.com/r/Streamitltd
YOUTUBE: https://www.youtube.com/channel/UCyirgkrx41-iuDsgdDxIY3g
Available markets right now:
Crex24
https://crex24.com/exchange/STREAM-BTC
Crypto Bridge
CryptoBridge now requires mandatory KYC.
https://wallet.crypto-bridge.org/market/BRIDGE.STREAM_BRIDGE.BTC
https://wallet.crypto-bridge.org/market/BRIDGE.STREAM_BRIDGE.ETH
https://wallet.crypto-bridge.org/market/BRIDGE.STREAM_BRIDGE.USDT
Whitebit:
WhiteBit is TOP-90 Coin Market Cap
https://coinmarketcap.com/rankings/exchanges/
https://whitebit.com/trade/STREAM_BTC
https://whitebit.com/trade/STREAM_USD
Vindax
Vindax is TOP-30 on Coin Market Cap
https://vindax.com/exchange-base.html?symbol=STREAM_BTC
https://vindax.com/exchange-base.html?symbol=STREAM_USDT
https://vindax.com/exchange-base.html?symbol=STREAM_ETH
Exchange-assets
https://exchange-assets.com/en/?market=stream_btc
https://exchange-assets.com/en/?market=stream_usd
Escodex
https://wallet.escodex.com/market/ESCODEX.STREAM_ESCODEX.BTC
P2PB2B