9 months ago
Tixl is bound to reach new all-time highs!
Let me now educate you about this innovative project and illustrate why this is a strong buy opportunity in my opinion:
1. Start-Up in crypto-friendly Germany.
Tixl is a German fintech start-up and is registered as a non-profit organization in Hamburg, Germany. The driving forces behind Tixl are a group of German software engineers who already successfully established another company called Elbstack, specializing in blockchain development services.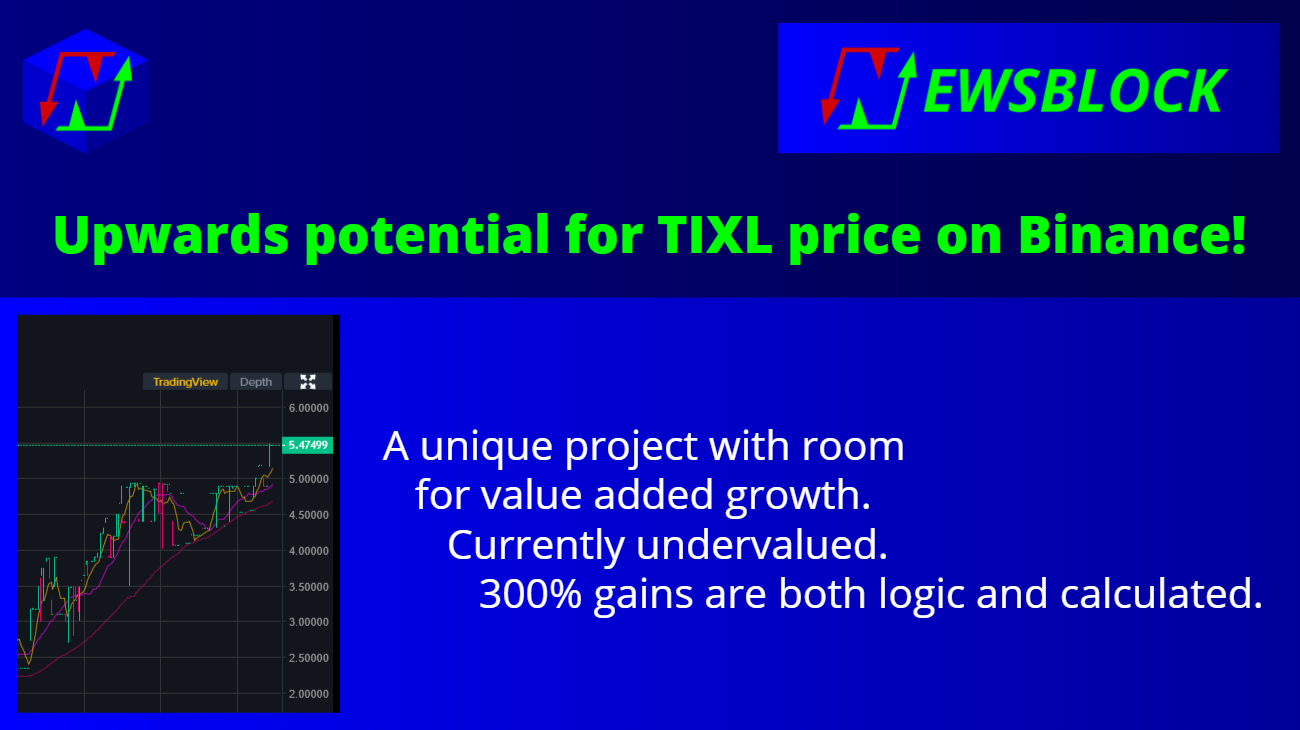 A recent study (https://www.publish0x.com/newsblock/german-banks-will-adopt-bitcoin-dedollarisation-xlgyow) by no other than the German state-owned bank Bayern LB, a lender based in the rich German province of Bavaria, has surprised the crypto community, by forecasting a $90,000 bitcoin price target after the halving in 2020. It is a clear sign that German entrepreneurship is focussing on blockchain and Bitcoin in particular.
Tixl can profit from its German roots and take advantage of it's country's growing adoption of Bitcoin and cryptocurrencies in general.
Video by Altcoin Daily: Germany Getting Bullish
2. An innovative project building on strong and already functioning technologies.
Tixl offers 3 important key features that allow for privacy, fast and zero-fee transactions. It reminds me of a similar project, Raiblockx, renamed to Nano (https://nano.org/en), and also offering free transactions. If the success of Nano can be an indicator of what Tixl might bring to the table, Tixl could surpass the current Nano market capitalisation of almost $100,000,000, making it extremely cheap to pick up this project at the current market valuations. Nano reached an all-time high market capitalisation of more than $5,000,000,000 at the height of the previous cycle.
The developers of Tixl did their homework and combine the best features of already existing cryptocurrencies into one project: Tixl. Tixl uses the Stellar Consensus Protocol (SCP), Directed Acyclic Graph (DAG), which is used by Nano and NTRU Encryption Algorithm.
Tixl is, in other words, an ideal instrument to profit from its technology and the soon to end altcoins bear market. In the current environment, you can buy this coin at a sharp discount.
3. An experienced team of developers.
Both Christian Eichinger, Managing director & Software Engineer and his managing partner Sebastian Gronewold have experience in the blockchain development sector and have previously successfully started the blockchain company Elbstack.
4. A smart decision to list on Binance, but token still undervalued.
After the completion of the second ICO token presale phase, Tixl is available for trade on Binance. (https://www.binance.org/en/trade/MTXLT-286_BNB), under the ticker MTXLT.
"We have decided to offer Tixl tokens [MTXLT] for 300 USD each (or equivalent in other currencies). As 1 MTXLT equals 1,000,000 TXLT, this results in a price of 0.0003 USD per TXLT. To find out more about the MTXLT unit, we strongly recommend checking out our whitepaper."
As openly communicated in an official article (https://medium.com/tixlcurrency/tixl-token-sale-phase-3-ae776d39e5c5), Tixl will be valued at 300USD in phase 3 of the token sale, creating a sound floor under its price and allowing for some major upward price action soon to follow. Those investors that act on this news, will benefit from it and make huge gains, as clearly the price hasn't picked up yet on this important news!
At 300USD a token, one token could be valued at 20BNB (with 1 Binance Coin valued at approximately 15USD), leaving room for a sharp increase as the token is valued much lower at only 5BNB approximately. There is room for a 300% price increase.
5. An angel investor with quite a reputation and knowledge.
Ivan Liljeqvist is a young but very educated and popular YouTuber, who has a following of 208,000+ subscribers!
He tackles the cryptocurrency industries' darkest secrets with often very interesting videos, teaching the average crypto investor and -entrepreneur a thing or two about this young financial technology industry. His work is a knowledge bundle and necessary guide into fintech, that will arm you to be more successful when it comes to investing in these assets. He is also the brain behind the famous Ivan on Tech Academy.
I have been following Ivan for quite some time and find him to be a reliable person!
Conclusion:
Tixl is a well thought out project and offers a soon to close window of opportunity, as I predict that the smart money will soon decide to buy up the cheap tokens, pushing the price up to around 300USD per token or 20BNB. Anything below 300USD is a steal, as the team promised to do everything to support the price. At the moment a token is only valued at 5BNB, leaving a lot of room for the smart money to make a well thought out decision.
Going further into the future, TIXL has a promising future with a professional (KYD) team operating in Germany, a country well-known for groundbreaking innovation.
Disclaimer:
I am not your financial advisor. This article is my opinion and you should do your own analysis.
Source: https://www.publish0x.com/cryptoanalyzer/tixl-bound-reach-new-all-time-highs-xmjmzy